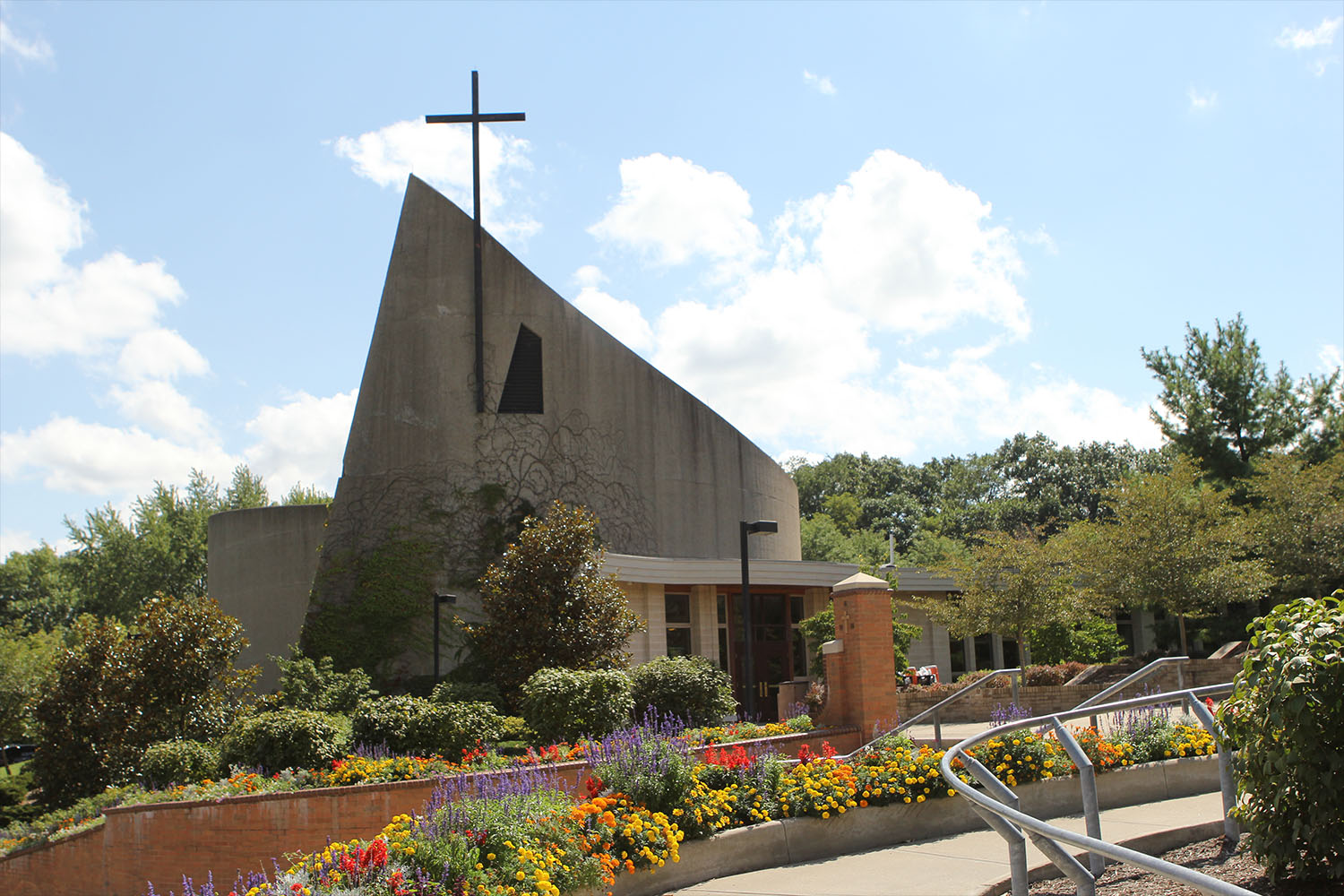 Located near the center of campus, Christ the King Chapel is the spiritual heart of Franciscan University of Steubenville. The largest place of worship on campus, hundreds of students flow in and out of its doors every week.
During the school year, four Masses are offered on Sunday, three each weekday, and one Mass on Saturday. Masses are often filled to capacity, with over 70 percent of Franciscan students attending Mass two or more times a week.
The students also take advantage of confession offered in the chapel five times a week. About 62 percent of students go to confession on campus at least monthly.
Throughout the year, over 500 students volunteer in Christ the King Chapel as readers, servers, musicians, ushers, and sound technicians.
History of the Chapel
Christ the King Chapel opened in 1969, eight years after the College of Steubenville moved from downtown Steubenville to its present hilltop location.
Designed by Father Sean Sullivan, TOR, the chapel's elliptical shape was intended to create an organic form that flowed right out of the earth and reached up to the heavens to give glory to God.
To the right of the altar is a Eucharistic Chapel where students can pray while surrounded by stained-glass windows depicting the seven sacraments.
On the left side of the chapel, a series of stained-glass windows depicting Franciscan images, including St. Francis, a donkey, a small church, and a dove that represents the Holy Spirit.
In 2015, the chapel was designated as one of two Holy Door sites in the Diocese of Steubenville for Pope Francis' Jubilee Year of Mercy. During this time, Catholics from throughout the nation came to Christ the King seeking the special indulgence.
According to Father Shawn Roberson, TOR, chaplain of Christ the King Chapel, the lives of students and Catholics from around the world have been changed in Christ the King Chapel.
"Christ the King Chapel is truly the heart of Franciscan University," he says. "Just as the blood flows out of the heart, so, too, many students go forth from the chapel after coming here for Mass, confession, holy hours, and praise and worship."
During the school year, the chapel is open from 5:30 a.m. to midnight.
Come to Christ the King Chapel and bathe in the mercy of Christ that flows from its heart.